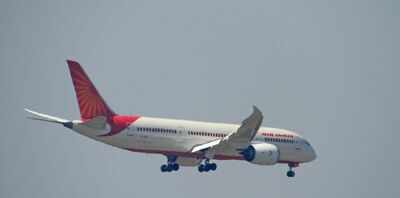 MUMBAI: A 42-year-old passenger developed fever, chest pain and died on board an Air India repatriation flight, flying from Lagos to Mumbai on Sunday morning.
The flight landed around 3:30 am and the family of the deceased, identified as Manesh Patil, has been informed, said an Air India source. The body is currently in Cooper hospital. "The passenger died following a cardiac arrest due to malaria," said an Air India official.
Around 2am, Air India pilots of Lagos-Mumbai flight AI-906 sent a message to airline base in Mumbai about the medical emergency on board. "The passenger, seated on 31 C onboard told the cabin crew that he was suffering from malaria. He was shivering and shaking before he passed out," the source added. The Air India cabin crew made an inflight announcement requesting medical professionals onboard to help with the emergency. "Dr Tushar Rane, a passenger on the flight came forward to help and along with the crew tried to revive Patil, but in vain. The passenger was declared dead on board the flight," the official added.
FacebookTwitterLinkedinMail